The Farm
Barnum Vineyard is first and foremost a farm; winemaking begins with grape growing. We have been fortunate to work with an amazing vineyard manager, Mr. Bill Naylor, who taught us the ins and outs of what vines need to thrive. And each growing season has provided learned new lessons.
The Vineyard is also home to a host of farm animals. We have mangalitsa/gloustershire spot pigs, prized for their fatty marbled meat. Truly gorgeous, stinky, smart animals that love to roam and search for grubs and seem to be channel Houdini as they continue to confound us with their great escapes.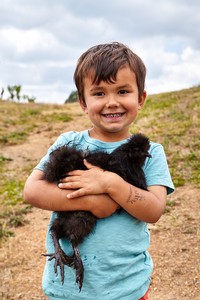 The animal endeavor started with seven jacob sheep that we found on craigslist (it is amazing what is available on the farm section of craigslist). We originally purchased the sheep as lawn mowers as they are excellent grass eaters. We had no idea what gems these sheep were when we got them. They have since also provided beautiful soft wool and sweet succulent lamb meat which melts in your mouth. After we got the sheep we needed to find a protector for them so promptly purchased a llama from a farmer which we named Zisou after a famed French soccer player.
We also now house over twenty chickens which belong to our crew chief, Antonia, that provide us with early morning wake up calls as the rooster calls us to action at daybreak. And when we are not careful, we have walked into our living room with a chicken on the couch sitting along side our youngest son, Eli.
Our Family Crew
Christopher Barnum
A structural engineer, Christopher, began the search for a family farm after moving to Califormia in the early 2000's. He knew when he saw the vineyard and tasted the wines made from its grapes that he had in fact struck gold. It was an ideal setting; twenty acres of barbera grapes and plenty of land for pigs and sheep and of course a llama and his growing family. Using his engineering background in geology and chemistry and under the guidance of Bill Naylor, a well respected, vineyard manager of the foothills he learned the art of growing grapes. The first two vintages of wines were made by Marco Cappelli from Miraflores who continues to give guidance now that Christopher has taken over the reins of winemaking. Christopher, a former green beret, finds no challenge to hard to tackle-- be it fixing a bottling line or corralling a group of pigs.
Natasha Barnum
Natasha manages business operations and development in addition to the red bucket wine club--the brigadeers; organizing tasting and harvest events and shipping out orders. Growing up in Venezuela, the US and Europe, she remembers her first taste of vinho verde from the misty hills of her father's home country, Portugal. Wine has always meant family gatherings and good food. After graduating from Georgetown University, she worked at the World Bank and PBS. And then Natasha and Christopher moved to California seeking new adventures. She, spent a year learning from the farmers of Sacramento's Soil Born urban farming program and now also helps manage the viticultural operations of the farm.
Peter Barnum
Peter Barnum, Christopher's brother, and Peter's family in Aptos, CA helped found red bucket wines. Peter is always on the lookout for wine barrels and is a good tasting adviser. He manages sales in the Santa Cruz region and runs an architectural services design firm in the Bay area.
Sean Costanzo
Sean and Christopher are old army friends and helped found red bucket wines. Sean currently is with the US Department of State and travels extensively tasting wines far and wide. A favorite destination is his father's country of origin, Italy. Sean's father flies out yearly from Bayonne, NJ to assist with a myriad of farm chores.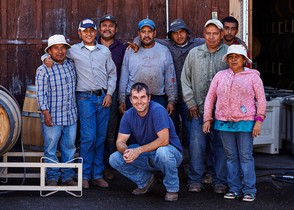 In addition to the ongoing guidance of winemaker Marco Cappelli and esteemed vinticulturalist, Bill Naylor, red bucket wines works with an amazing crew who continue to teach us something new every harvest. There would be no red buckets to fill without all of their support and support and help of all the partners their families.
A special thanks to Leo Gong, an amazing San Francisco photographer, who documented a year of winemaking from winter to harvest at Barnum Vineyard. Most of the images on the site are from his work with us. We are very grateful. Check out more of his work here.